Put on yer Thinking Caps ™!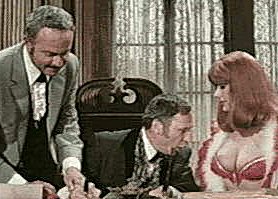 You know I like things in pairs!
---
The orphans list contains contestants we want to use in a match at some point but so far we have been unsuccessful in devising an appropriate match. Since we're stumped, maybe you'll have better luck. If you come up with an idea for any of these orphans, please use the Suggestion form to advise us of your brilliance where we fell woefully short. Of course, you will get full credit for the match idea with the links and the name up in lights.
Now, before you get to work, here are some things you should know:
DO NOT LIMIT YOUR SUGGESTIONS TO CONTESTANTS ON THIS LIST! If you have a match idea that involving combatants not included here, please send it to us.
This is not a complete list of orphans. The actual list is very large and simply would be overwhelming to look at in one sitting. As contestants get paired up and time passes, we will update the list with new contestants.
You will notice that sometimes a movie or television show is mentioned as an orphan. In this case, we are looking for any match(es) involving the movies/shows, whether it be the entire cast or a single character. We are stumped that bad.
And now, with no further ado...
THE ORPHANS LIST
NEW!
Grandpa Simpson
Jabba the Hut
The Waterboy
Axel Foley
Curly (City Slickers)
Marlboro Man
King of the Hill
Mystery Men
Buddy Lee
Wile E. Coyote
Tony Monero (Saturday Night Fever)
Skynet
A Christmas Story (e.g. Ralphie, the Dad)
Powerpuff Girls
Imhotep (The Mummy)
Magnum P.I.
Shrek
Benson
Benny Hill
Tyler Durden (Fight Club)
Wile E. Coyote

STILL LOOKING
Rocky and/or Bullwinkle
Curious George
Rugrats
Lord of the Rings
Jack Ryan
Teletubbies
Hercules
Sherlock Holmes
Capt. Sheridan (Babylon-5)
Lost In Space
George Steinbrenner
Smurfs
Superman
Madonna
G.I. Joe
James Earl Jones (any character)
Peter Pan
Peanuts
Fat Albert
J.R. Ewing (Dallas)
Crocodile Dundee

MATCHED!
Hogan's Heroes
Jesse Ventura
Fletch
Yosemite Sam
Pokemon
Nutty Professor
Planet of the Apes
Beverly Hills 90210
Lassie
General George S. Patton
Han Solo
The Dirty Dozen
The Little Rascals
Joe Isuzu
Transformers
NYPD Blue

---
Current Match | History | Suggestions | FAQ | Stats
Links | Awards | Commentators | Real Life | Fun Stuff

© 2001, Dragon Hamster Productions, LLC