LOOK WHAT YOU'VE DONE!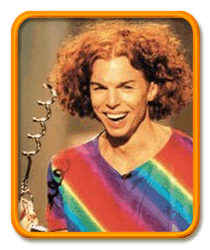 DID YOU VOTE FOR "BOTH MANGLED AND KILLED"?!
DO YOU REALIZE WHAT YOU HAVE UNLEASHED?!?!

Now with Jar Jar and Scrappy out of the way, who is left in the ring, genius? Carrot Top. Brilliant manuever! Didn't you notice that he was locked in the cage and has the only key? Does the special bulletproof glass that prevents crowd interference ring a bell? Did you just skip over the megaphones part? We even tried to warn you. Dave practically pleaded with you.

In case you don't get it, Carrot Top now has a captive audience. If either Scrappy or Jar Jar had survived, maybe the winner and Carrot Top could have cancelled out each others' annoyance. But, nooooooooo.

Congratulations! Now you'll have to sit through Carrot Top, Uncensored. I'm sure you'll really enjoy it. Let's just hope that one of the celebrities ringside doesn't offer him a multiple movie deal just to get him to shut up.

If you voted for Carrot Top, click here for atonement.


Home | History | Suggestions | FAQ | Stats | Links
Awards | Commentators | Real Life | Fun Stuff | Studio Store
© 2003, Dragon Hamster Productions, LLC